Korean Language Education was started to help foreign students learn

Korean Language and culture.
About 1,800 students from more than 15 countries are currently studying at the Korean Language Center.

The Korean Language Center is producing many prominent students by providing them not only with systematic and dynamic educational courses that reflect versatile demands of foreign students but also with effective teaching methods from exceptional faculty members. Furthermore, it makes the best use of the books and various multimedia materials to facilitate easy understanding, while offering diversified programs intended to assist foreign students currently residing in Korea. From this point onwards, The Korean Language Center of KMU IIE will be exerting the necessary efforts to become established as a representative Korean language institute in Korea by being equipped with an highly advanced educational environment and multimedia facilities and by developing more effective educational methods and materials.

The Korean Language Center offers regular and short-term courses.

The regular course is designed to provide intensive instruction for students in speaking, listening, writing and reading skills. The 10-week course meets five times a week for four hours each day and is divided into six levels: beginning 1, beginning 2, intermediate 1, intermediate 2, advanced 1, and advanced 2.

The short-term course is designed to teach students Korean intensively and expose them to Korean culture in a short period of time. The three-week course meets five times a week with 3 times of cultural experiences.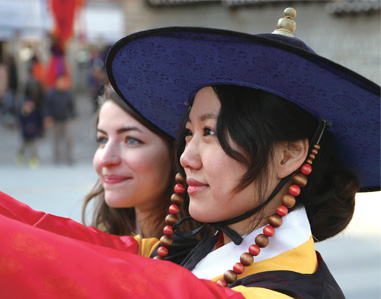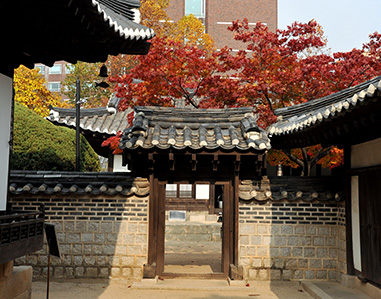 Course
Regular Course
Short-Term Course
Period
4 Semesters per year
(10 weeks/semester)
3 Weeks during summer
Curriculum
Listening, Speaking, Reading, Writing
Korean lesson in the morning +
Culture experience in the afternoon
Tuitions
1,500,000 KRW/semester
(approx. 1,310 USD)
1,600,000 KRW/3weeks
(approx. 1,390 USD)
*Fees for tuitions, dormitory, culture class are included
*Meals are not included
Regular Course
Period
4 Semesters per year
(10 weeks/semester)
Curriculum
Listening, Speaking, Reading, Writing
Tuitions
1,450,000 KRW/semester
(approx. 1,250 USD)
Short-Term Course
Period
3 Weeks during summer
Curriculum
Korean lesson in the morning +
Culture experience in the afternoon
Tuitions
1,450,000 KRW/3weeks
(approx. 1,250 USD)
*Fees for tuitions, dormitory, culture class are included
*Meals are not included